Blast Off Balloon Rocket Classroom Set (25)
Regular price
$39.99 USD
Sale price
$29.99 USD
Unit price
per
Sale
Sold out
Welcome to this exciting STEM activity that will not only be loads of fun but will also teach kids about the amazing science of motion and propulsion. In this project, we'll explore how the force of air moving in one direction can propel a balloon in the opposite direction, much like a real rocket! As we embark on this journey, we'll introduce you to the fascinating world of physics, specifically focusing on Newton's Laws of Motion.
Materials in the kit:
12-inch colorful balloon (25 pcs)
Balloon clip (25 Clothespin)
Fishing line roll (Rocket track)
4.25-inch straw (25 pcs)
Needed but not included:
Tape, Markers, digital instructions, creativity
 https://www.instructables.com/Make-a-Balloon-Rocket-With-Bits4Bots-Science-STEM-/
Other helpful resources https://blog.kaplanco.com/ii/balloon-rockets
*Anchor points (chair to chair, bookshelf to door knob, etc.)
*Next Generation Science Standards® is a registered trademark of WestEd. Neither WestEd nor the lead states and partners that developed the Next Generation Science Standards were involved in the production of this product, and do not endorse it.
Hey teacher & STEM enthusiast! These also make great take home weekend kits :)
Share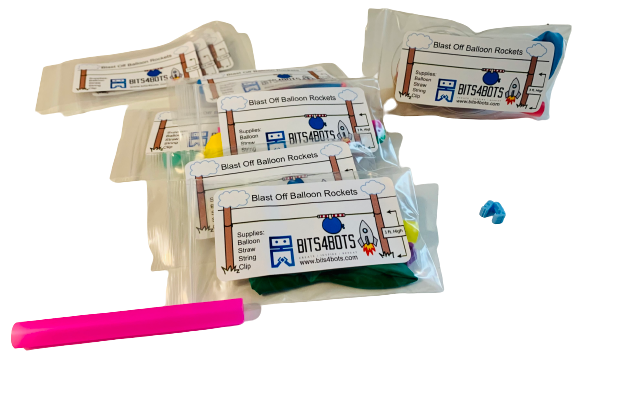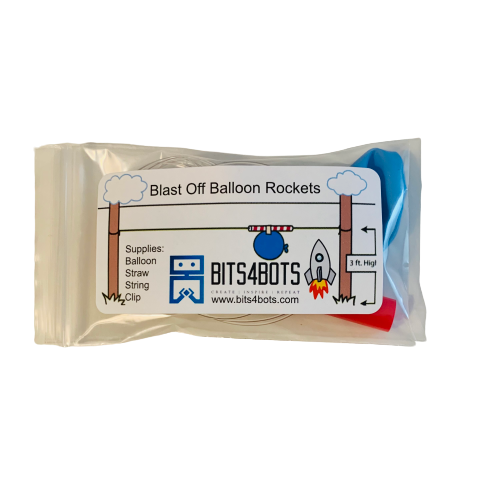 Blast Off Balloon Rocket
Classroom Set (25)